Antakalnis Outpatient Clinic is a non-profit public healthcare institution of Vilnius city municipality established in 1983. Over the decades, the Outpatient Clinic has gained invaluable experience, grown and improved. We believe that the Outpatient Clinic has become a reliable family member not only for its neighbours in the Antakalnis district, but also for those living in other districts of the capital.
More than 100,000 people have entrusted their health to Antakalnis Outpatient Clinic. More than 1.3 million services are provided annually. More than 770 employees take care of patients.
Antakalnis Outpatient Clinic is a modern clinic, worthy of the trust of Vilnius residents, providing safe, high-quality services, striving to meet all the needs and expectations of its patients, and constantly improving.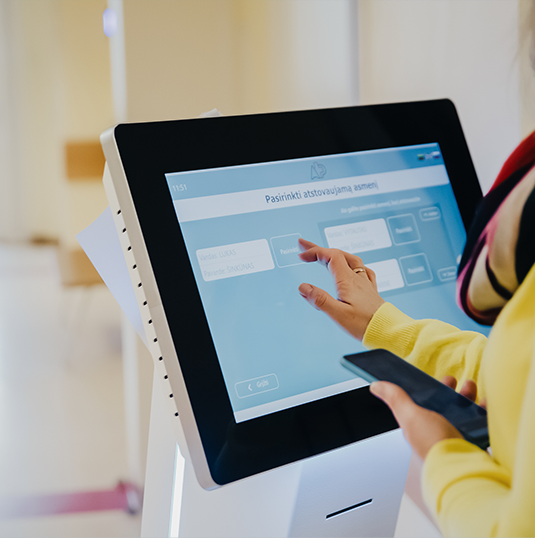 The Outpatient Clinic provides almost all outpatient primary and secondary personal healthcare services that Vilnius residents need:
- The family doctor is the person who knows the most about the patient's health and is best placed to advise on what to do to prevent illness, how to get better faster, and if necessary, whether a specialist should be consulted;
- Dentists provide therapeutic and surgical treatment, as well as oral care services;
- Mental Health Centre provides psychiatrist, psychologist and social worker services for people with mental disorders and their families;
- Preventive health checks and disease prevention programmes. Disease prevention programmes, funded by the Compulsory Health Insurance Fund, help to detect diseases in their early stages, when patients are still feeling and seeing nothing; compulsory paid preventive health checks are performed at the Occupational Health Centre.
- Medical advice of specialist doctors. In the case of more serious conditions, the family doctor consults a specialist doctor who is an expert in the field. The latter helps to make the most accurate diagnosis and prescribe the most appropriate treatment;
- Laboratory tests provide as much as 70% objective information and reveal the causes of diseases and ailments. The laboratory of the Outpatient Clinic performs more than 900,000 tests a year, covering 145 different types of tests: haematological, general clinical, biochemical, and blood coagulation tests. Viral and other infections, hormones, and cancer markers are tested as well;
- Clinical physiology and instrumental tests to determine the function of certain organs. The Outpatient Clinic offers X-ray examinations, long-term electrocardiogram monitoring (with Holter monitor), long-term blood pressure monitoring, veloergometry, echoscopy, endoscopy, spirometry, encephalography, rectoromanoscopy, audiometry, etc.;
- Physical medicine and rehabilitation measures help to maintain and regain health in a non-medical way. It offers physiotherapy, occupational therapy, water exercise, underwater massage, therapeutic showers, therapeutic massage, physiotherapy, fango-paraffin and mud applications and phototherapy;
- Outpatient and day surgery services are provided using modern technology, without removing patients from their normal environment, i.e. without hospitalisation;
The work of the Outpatient Clinic is facilitated by a modern medical information system. You can register with any doctor, view your registrations or cancel them not only at the Outpatient Clinic or by phone, but also online.
To prevent patients from waiting unnecessarily in queues at the reception desk or at the doors of procedural and doctors' rooms, we use one of the most advanced queue management systems available, as well as electronic registration, where each patient is allocated a specific time.
In addition to data entry, doctors can view a patient's medical history, diagnoses, test results, nursing, physical medical, rehabilitation and other treatments prescribed and carried out, visits to specialists and other important information about the patient.
Patients of Antakalnis Outpatient Clinic receive e-mails about their scheduled doctor's appointments, as well as invitations to participate in preventive health check programmes, to have vaccinations.